Certificate III in Accounts Administration FNS30317
COURSE DESCRIPTION
This qualification reflects the job roles of employees with functions that could include financial data entry, processing accounts and payrolls, providing customer service in financial transactions, and producing financial reports. Individuals in these roles apply knowledge and skills to demonstrate autonomy and judgement and to take limited responsibility in known situations under general supervision.
Status

Course open

Date

02/05/2022 to 13/10/2022

Time

on application

Price

POA

Tutor

Code

23003X

Venue

WEA Wollongong
50-56 Auburn Street, Wollongong, NSW 2500
No licensing or certification requirements apply to this qualification at the time of publication. However, some units may specify relevant licensing, legislative and/or regulatory requirements that impact on the unit. Refer to FNS Financial Services Training Package Companion Volume Implementation Guide for guidance on requirements.
ENTRY REQUIREMENTS
There are no entry requirements for this qualification.
What work can you do?
Payroll Officer, Accounts Officer
What units will you study?
Total number of units = 11
7 core units plus
4 elective units
The elective units must be relevant to the work environment and the qualification, maintain the integrity of the AQF alignment, and contribute to a valid industry-supported vocational outcome, and are to be chosen as follows:
- all 4 units may be chosen from the elective units listed below
- up to 2 units may be chosen from a Certificate II, Certificate III or Certificate IV in any currently endorsed training package or accredited course, provided they do not duplicate the outcome of another unit chosen for the qualification.
CORE UNITS
BSBITU306 Design and produce business documents
BSBWRT301 Write simple documents
FNSACC304 Conduct business activities using a computerised accounting system
FNSACC311 Process financial transactions and extract interim reports
FNSACC312 Administer subsidiary accounts and ledgers
FNSACC313 Perform financial calculations
FNSINC301 Work effectively in the financial services industry
ELECTIVE UNITS
BSBCMM301 Process customer complaints
BSBCUS301 Deliver and monitor a service to customers
BSBCUS403 Implement customer service standards
BSBFIA302 Process payroll
BSBFIA401 Prepare financial reports
BSBITU304 Produce spreadsheets
BSBITU305 Conduct online transactions
BSBRKG303 Retrieve information from records
BSBRKG304 Maintain business records
BSBWOR301 Organise personal work priorities and development
FNSACM301 Administer financial accounts
FNSACM302 Prepare, match and process receipts
FNSACM303 Process payment documentation
FNSCRD302 Monitor and control accounts receivable
FNSCRD405 Manage overdue customer accounts
FNSCUS402 Resolve disputes
FNSORG301 Administer fixed asset register
FNSRTS308 Balance cash holdings
FNSRTS309 Maintain main bank account
HOW TO ENROL
Please contact 02 4226 1622 to arrange an interview with our Student Support Officer to ensure the course is right for you, discuss and choose your elective units and receive a final quote before enrolling.
Please note date range is indicative of program start for this term not complete program
This qualification is eligible for funding under Smart and Skilled. For more information on Smart and Skilled visit https://smartandskilled.nsw.gov.au
WEA Illawarra can be prevented from issuing you with a nationally recognised VET qualification or statement of attainment when you complete your course if you do not have a Unique Student Identifier (USI). If you have not yet obtained a USI you can apply for it directly at https://www.usi.gov.au/students/create-usi
NOTE: Certificates will not be issued until satisfactory completion of all assessment requirements and all payments for the course have been received.
Parking

There is plenty of parking onsite but please DO NOT TURN RIGHT into the carpark. You could endanger yourself, any passengers and any others on the road.

The centre should be approached from the South, either at the south end of Auburn Street, or by turning into Auburn Street from Swan or West Streets.

Food and Drink

There is a Zip Tap available for those who wish to BYO cup plus tea/coffee/milk supplies.

Please note that due to COVID-19 restrictions there will be no supplies or utensils available at the WEA to make refreshments or to use for the consumption of food.

Please BYO refreshments for your use only.

Confirmation of Course and Purchase of Materials

At times WEA must cancel classes due to lack of enrolments. To avoid undue costs please do not purchase any materials until your course has been confirmed as going ahead.

Please call the WEA office on phone: (02) 4226 1622 three days prior to the commencement of the class to confirm that it will be going ahead.

No Smoking

Please note that WEA is a smoke-free business and smoking is not allowed in the building in the carparks or in any outside area on WEA property.

COVID and your Safety

WEA Illawarra operates according to the current Public Health orders and restrictions.

ALL WEA Illawarra teaching and admin staff are double vaccinated.

WEA Illawarra recommends the following for students and visitors to the college:
– Double vaccination – highly recommended
– Mask wearing – optional
– Scanning on to Service NSW – optional
– Self-distancing – recommended
– If you are feeling unwell – notify staff immediately

Courses are subject to current Public Health orders and restrictions. Either a full refund or a transfer to another course will be offered to participants if the course is cancelled due to COVID restrictions.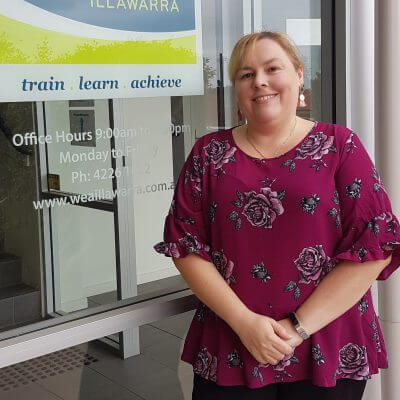 Meet your tutor
Dannelle Robson
VET Trainer
Dannelle Robson
VET Trainer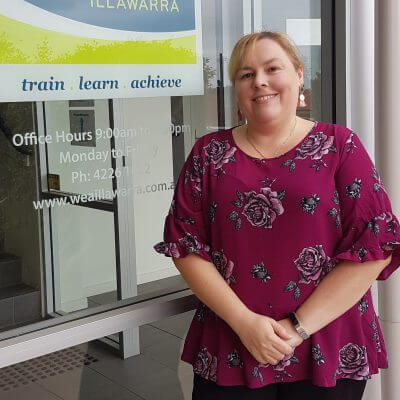 Walking into a classroom full of students is Dannelle's favourite way to start the day. Working with trainees enables Dannelle to travel to some great workplaces on the NSW South Coast and Southern Highlands and meet trainees in many different working environments.
In her own words she says, "I love that I get to be part of the training and career journey for so many people in the Illawarra."