WEA Illawarra has grown into a high quality adult and community education institution which remains non-profit, governed by its Board and Members. By becoming a Member and being involved in our governance, you can help develop WEA Illawarra as a prestigious provider of quality education and training services.
There's no cost to becoming a member. Once you've commenced a WEA course, all you need to do is sign an application form agreeing to support the objectives of WEA Illawarra. Membership is approved by the Board or its delegates and you will have a short wait for processing.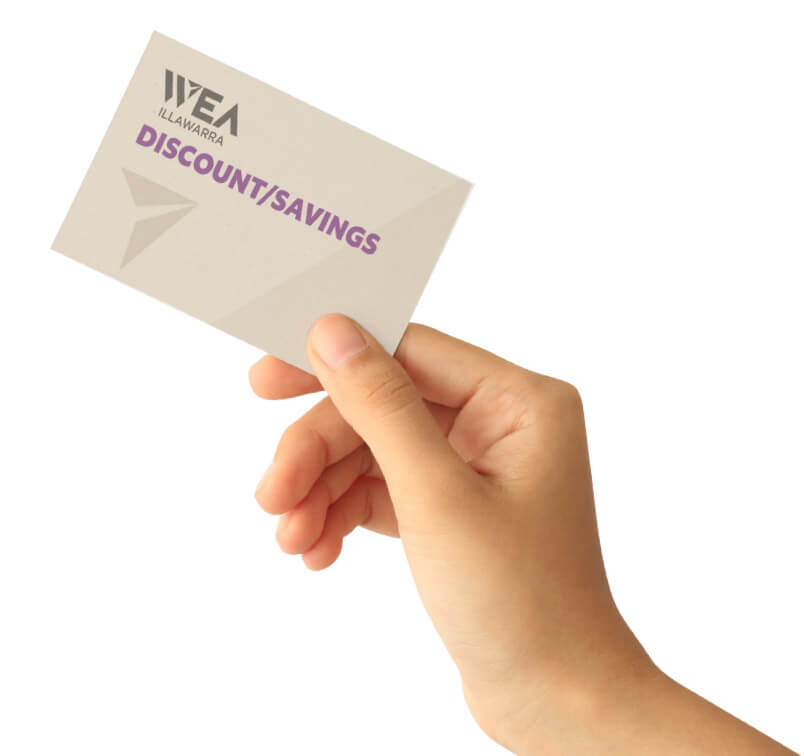 As a WEA Illawarra Member you will have access to a range of benefits. In 2022 as a member you can:
Receive a 10% discount for all Leisure Courses and other non-accredited courses not marked with an x.
Receive a 10% discount on specific courses identified as Member Discount Courses.
Receive Last Minute Special Offers on certain courses.
Enrol four people into the same course, and get fourth person in for free.
Have the right to vote for up to six Directors on the Board.
You may claim discounts at the time of applying for Membership, however until formally notified you will be regarded as a temporary Member.
Eligibility for Membership
To become a WEA Member, you must be:
Aged 18 years or over
Commencing or completing an educational activity provided by the WEA.
Your Membership will be valid for a period of twelve (12) months from the time your Membership is approved. After the 12 months you will need to reapply.
Prospective Members can apply in one of three ways:
Download the application form and post it to:
WEA Illawarra PO Box 1472 Wollongong 2500
Request a form from your WEA tutor or office, complete it and return to us.
Complete the online membership form below.
Members are entitled to vote at the Annual General Meeting and Special meetings. The constitution allows for up to six (6) Directors of the Board to be elected by the Members.
Membership Responsibility
As a member please note that if WEA Illawarra is closed down for any reason during the time of your membership, or within one year afterwards, you will be asked to contribute to the WEA up to a maximum of five dollars ($5).