Certificate III in Retail SIR30216
SIR30216 Certificate III in Retail
Nominal Hours: 405
COURSE DESCRIPTION
This qualification reflects the role of individuals who have the primary responsibility of engaging the customer, maintaining daily store operations and delivering on organisational expectations. They have sound knowledge of product and service offerings. These individuals possess a range of well-developed skills where discretion and judgement is required. They work with some independence under limited supervision. Some individuals working at this level are responsible for supervising other team members and monitoring day-to-day workplace operations.
The qualification provides a pathway to work in a diverse range of retail settings including specialty retailers, supermarkets, department stores and quick service restaurants.
Individuals with this qualification are able to perform roles such as frontline sales assistant, customer service representative, shop assistant, retail supervisor, team leader and senior sales assistant.
Status

Course open

Date

02/05/2022 to 13/10/2022

Time

on application

Price

POA

Tutor

Code

23002X

Venue

WEA Wollongong
50-56 Auburn Street, Wollongong, NSW 2500
LICENSING/REGULATORY REQUIREMENTS
No occupational licensing, certification or specific legislative requirements apply to this qualification at the time of publication.
ENTRY REQUIREMENTS
There are no entry requirements for this qualification.
What work can you do?
Customer Service Representative, Retail Supervisor, Cashier, Sales Assistant, Team Leader, Retail Assistant
What units will you study?
13 units must be completed:
8 core units
5 elective units, consisting of:
3 units from the list below
2 units from the list below, elsewhere in SIR Retail Services Training Package, or any other current Training Package or accredited course.The selection of electives must be guided by the job outcome sought, local industry requirements and the complexity of skills appropriate to the AQF level of this qualification.
CORE UNITS
SIRXCEG001 Engage the customer
SIRXCEG002 Assist with customer difficulties
SIRXCEG003 Build customer relationships and loyalty
SIRXCOM002 Work effectively in a team
SIRXIND001 Work effectively in a service environment
SIRXRSK001 Identify and respond to security risks
SIRXSLS001 Sell to the retail customer
SIRXWHS002 Contribute to workplace health and safety
ELECTIVE UNITS
Communication and Teamwork
CHCDIV001 Work with diverse people
SIRXCOM003 Promote team cohesion
Customer Engagement
SIRXCEG006 Provide online customer service
Health and Wellbeing
SIRXHWB001 Maintain personal health and wellbeing
Inventory
SIRRINV001 Receive and handle retail stock
SIRRINV002 Control stock
Management and Leadership
SIRXMGT001 Supervise and support frontline team members
Marketing
BSBMKG401 Profile the market
SIRXMKT001 Support marketing and promotional activities
Merchandising
SIRRMER001 Produce visual merchandise displays
SIRRMER002 Merchandise food products
SIRRMER003 Coordinate visual merchandising activities
Retail Financials
SIRRRTF001 Balance and secure point-of-sale terminal
Styling
SIRRSTY001 Style the customer
Training and Development
SIRXTAD001 Train others in frontline tasks
Wholesale
SIRWSLS002 Analyse and achieve sales targets
SIRWSLS003 Build sales of branded products
Working in Industry
SIRXIND002 Organise and maintain the store environment
SIRXIND003 Organise personal work requirements
SIRXIND005 Develop personal productivity
HOW TO ENROL
Please contact 02 4226 1622 to arrange an interview with our Student Support Officer to ensure the course is right for you, discuss and choose your elective units and receive a final quote before enrolling.
Please note date range is indicative of program start for this term not complete program
This qualification is eligible for funding under Smart and Skilled. For more information on Smart and Skilled visit https://smartandskilled.nsw.gov.au
WEA Illawarra can be prevented from issuing you with a nationally recognised VET qualification or statement of attainment when you complete your course if you do not have a Unique Student Identifier (USI). If you have not yet obtained a USI you can apply for it directly at https://www.usi.gov.au/students/create-usi
NOTE: Certificates will not be issued until satisfactory completion of all assessment requirements and all payments for the course have been received.
Parking

There is plenty of parking onsite but please DO NOT TURN RIGHT into the carpark. You could endanger yourself, any passengers and any others on the road.

The centre should be approached from the South, either at the south end of Auburn Street, or by turning into Auburn Street from Swan or West Streets.

Food and Drink

There is a Zip Tap available for those who wish to BYO cup plus tea/coffee/milk supplies.

Please note that due to COVID-19 restrictions there will be no supplies or utensils available at the WEA to make refreshments or to use for the consumption of food.

Please BYO refreshments for your use only.

Confirmation of Course and Purchase of Materials

At times WEA must cancel classes due to lack of enrolments. To avoid undue costs please do not purchase any materials until your course has been confirmed as going ahead.

Please call the WEA office on phone: (02) 4226 1622 three days prior to the commencement of the class to confirm that it will be going ahead.

No Smoking

Please note that WEA is a smoke-free business and smoking is not allowed in the building in the carparks or in any outside area on WEA property.

COVID and your Safety

WEA Illawarra operates according to the current Public Health orders and restrictions.

ALL WEA Illawarra teaching and admin staff are double vaccinated.

WEA Illawarra recommends the following for students and visitors to the college:
– Double vaccination – highly recommended
– Mask wearing – optional
– Scanning on to Service NSW – optional
– Self-distancing – recommended
– If you are feeling unwell – notify staff immediately

Courses are subject to current Public Health orders and restrictions. Either a full refund or a transfer to another course will be offered to participants if the course is cancelled due to COVID restrictions.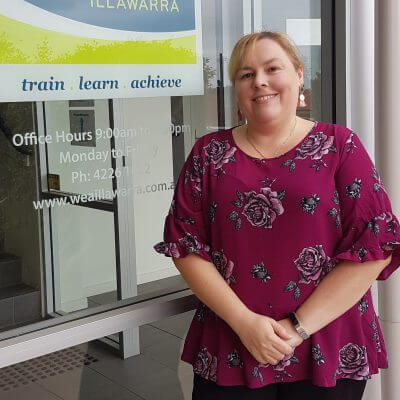 Meet your tutor
Dannelle Robson
VET Trainer
Dannelle Robson
VET Trainer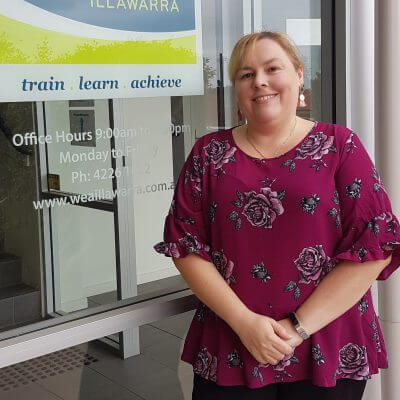 Walking into a classroom full of students is Dannelle's favourite way to start the day. Working with trainees enables Dannelle to travel to some great workplaces on the NSW South Coast and Southern Highlands and meet trainees in many different working environments.
In her own words she says, "I love that I get to be part of the training and career journey for so many people in the Illawarra."